11 Oct 2018
How emerging technologies are reinventing teaching and learning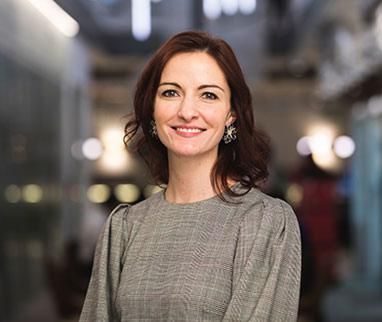 Training as a teacher was one of the most difficult and rewarding experiences of my life.
The highs of teaching go beyond those I have experienced in any other role. The moment a parent whole-heartedly thanks you for the positive impact you've had on their child's development and their confidence. Creating lessons that break down a subject to the point of understanding. Witnessing a student finally grasp a concept, after weeks and months of perseverance.
But the realities of teaching, the challenges that teachers are facing every day, that's been harder to reflect on and tough to accept. After training and grafting for months and years to become an educator, to make a real difference to the lives of children, there's the obstacle course that awaits you… The endless paperwork, curriculum restraints and requirement to 'teach to the test', the long, long hours and lack of resource. But the biggest challenge right now that must be addressed is meeting the needs of every student as class sizes continue to grow. At one point, I had 34 children in my class and a shared teaching assistant. It is unrealistic and unfair to expect a teacher to personalise the learning of every child in such an environment.
I truly believe that technology can go a long way towards breaking down these barriers, giving teachers the support and capacity to do what they are trained to do, an opportunity to be the teacher they always wanted to be. EdTech can help bring learning to life, increase efficiencies and save costs. I'm on a journey to discover institutions and practitioners that have found this balance, schools that are evolving to make technology part of the everyday.
This journey began last week when I was invited to visit Shireland Collegiate Academy, a large inner-city secondary school in Smethwick. Welcomed by Principals David Irish and Kirsty Tonks and Executive Principal and Trust CEO Sir Mark Grundy. It was my first time back in a school in over a year, and unlike any observation experience I've had.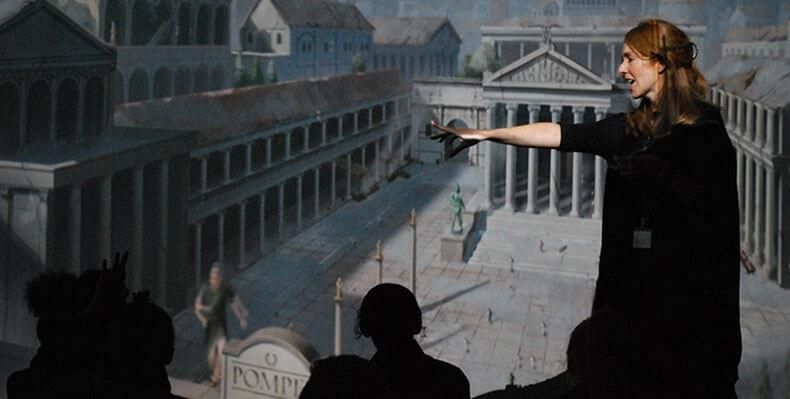 Shireland Collegiate Academy, a Microsoft Showcase school, has been signposted by the DfE as an example of EdTech best practice. Rated Outstanding, in recent years the Academy has gained a reputation for effective use of technology to improve standards, innovative curriculum design and embedding new approaches to learning. When Damian Hinds called for an EdTech revolution in schools in August, it was this school they singled out as an example of good practice.
I was lucky enough to have the opportunity to observe 2 lessons in the school's Immersive Room. Showcasing technology that, I was advised, is creating immersive, scalable, project-based learning opportunities for students. Entering the room for the first time with a class of Year 8 students (during a cross-curricula history and creative writing lesson) it was clear to see that the students were completely engrossed in the content. A scene from the streets of Pompeii surrounded us, as they sat on beanbags in small groups and Class Teacher - Mo Cusworth-Yafai, asked them to discuss and share thoughts and predictions about 3 contrasting characters from the scene.
Thinking back to my own experience of teaching history and creative writing to my Year 6 class… with students trying to get into the mindset of a WW2 evacuee to write a 'diary entry'... With all the video content, powerpoint slides and literature in the world I could not have achieved the pure enthusiasm and level of empathy and understanding that I witnessed during that lesson at Shireland.
Kirsty, when introducing us to the concept that morning, had said that "It's all about creating the 'wow' factor to get kids excited about learning" and in that moment the 'wow' was clear to see… and hear... and smell!.. One of the unexpected additions to the experience was the 'scent machine'. Midway through the lesson the 'eruption' happened. The graphics were set to shake, the sound effects activated and the scent of ash and sulphur released. This, of course, caused quite a commotion and the students screamed and held on to each other. This was the stark difference between the standard viewing of a video in the classroom and being truly immersed in the virtual environment.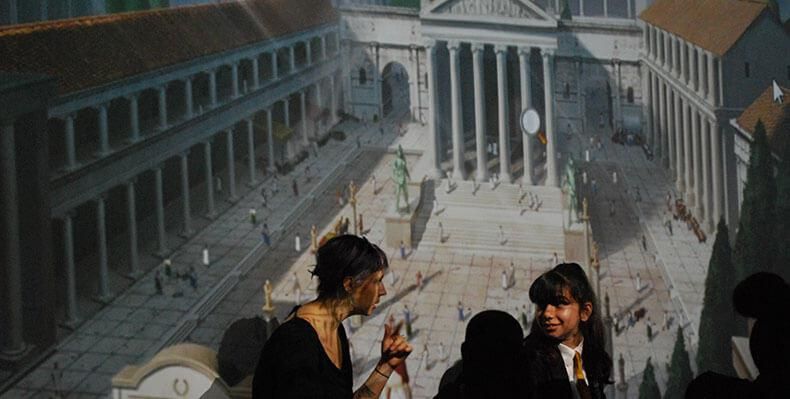 As exciting as the lesson was and as engaged as the students seemed, I was left with questions that any practitioner would have about the practicalities of such an experience. Namely - is it truly possible to achieve this with the limited time, budget and resource that most schools face. And, of course, what are the learning outcomes?
To create and execute lessons and digital displays of this standard and complexity in such a space, the school employs a technical support team of five – so how do they afford it?
"Quite simply, it's how we've chosen to staff the school," explained Kirsty. "Of the further four EdTech staff who support the embedding of technology across the trust, three cover their own salary by also providing support services to schools outside the trust. We have a leaner support staff than most schools have and see technology as a way of supporting students rather than being person-dependent."
It's not the first time I've heard about this balancing act. Pooling budget for technology is a route that many schools are choosing to take, but there's a brave step to be taken when a decision is made to invest in the long-term view of the benefits of technology, over the short-term need for teaching assistants.
Sir Mark went on to explain how staff retention is extremely high and how the senior leadership team together believe that with "Tech doing the heavy lifting for staff" it provides much-needed relief. He explained that Shireland invests in effective technology to, "not only give kids a chance of achieving but to give staff a life!"
The Immersive Room is just one very small part of the bigger EdTech picture here. Shireland Collegiate Academy is technologically enabled, they use business intelligence for assessment for primary and secondary, and aggregate data to develop reports for different staff across the school. Every resource is online and parents and pupils can use this to view the curriculum annually. Kirsty explained how this plays a huge role in pupil and parental engagement.
And as for learning outcomes…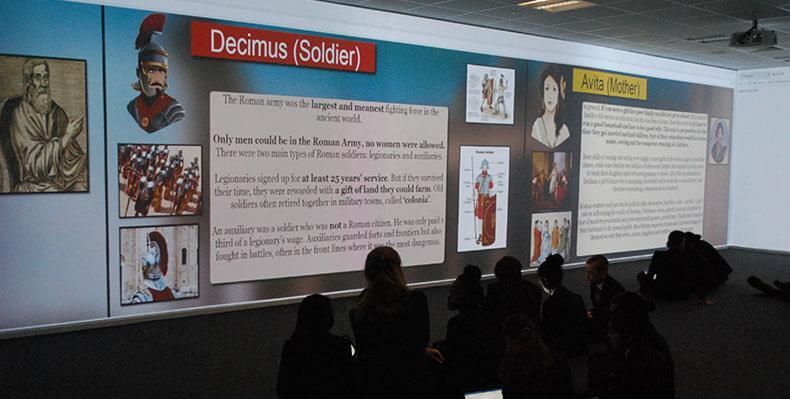 "I have a problem with people doing things when there's no science behind it," said trust CEO Sir Mark Grundy, "I like some empirical base to things. So I don't like us giving people resource, and not knowing what difference it made."
What has been evidenced is an increase in engagement and attendance post-implementation. By bringing learning to life this way, every child is given access to the context of each topic and the overall results across the school are showing the impact.
The latest school report from Ofsted rates them Outstanding across the board and specifically calls out that "all groups of students make rapid progress, irrespective of their background or ability level" and that "…teaching is outstanding. Lessons are planned extremely well to make sure they are demanding, exciting and get the most out of all groups of students. This is underpinned by the innovative use of information and computer technology (ICT)."
A key takeaway from this experience is a sense of the passion, dedication and bravery it has taken for Shireland to reach this stage, to the point that the impact of technology is evident across all aspects of the school, their ethos, staff motivations, student engagement and learning outcomes.
Shireland is doing all they can to encourage a long-term view of the benefits of technology in education as part of the Research Schools Network - a partnership between the Education Endowment Foundation (EEF) and the Institute for Effective Education (IEE). They support schools in developing new ways of improving teaching and learning, in evaluating the impact of these innovations. Along with this, they provide training and professional development to teachers and leaders in the area.
And just for us, Kirsty Tonks has provided her Top Tips for Implementing an Immersive Room and how to select and source the right technology for you and your school.
---
About Bett
Bett is the first industry show of the year in the education technology landscape, bringing together 800+ leading companies, 103 exciting new edtech start ups and over 34,000 attendees from the global education community.
Location & Opening times:
ExCeL London, Royal Victoria Dock, 1 Western Gateway, London E16 1XL, United Kingdom.
Wed 22nd January, 10:00 - 18:00
Thu 23rd January, 10:00 - 18:00
Fri 24th January, 10:00 - 18:00
Sat 25th January, 10:00 - 15:00