09 Oct 2019
Forging digital strategies in secondary education with Renaldo Lawrence: Part two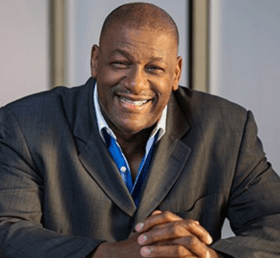 Part two of our chat with Renaldo Lawrence, Advanced Skills Teacher currently working to transform Surrey's Glyn School's digital offer, covers how education technology fits into his vision for the 2019/2020 school year.
Don't forget to check out part one here, outlining Renaldo's priorities for the upcoming school year.
Will you be using any EdTech to help meet your priorities this year?
Yes, in the following ways.
I will be creating content to help my students learn how to use applications and content such as this example.
I will also be working with the head of CPD to help train our teachers, such as was done here
I will be creating content like this to help our students learn how to learn
I will be using the Google tools to create content and share content with teachers and parents for a better educational experience.
We will be using Project Based Learning as a means of learning.
Are you looking at buying any new EdTech solutions to help?
The solutions we will be integrating this year are Chromebooks for students and the Adobe Creative Cloud.
Will you be relying on legacy systems?
Yes, we will, and I think this is one of the main issues we have as a country.
This is one of the issues I think happen in a lot of schools in the UK. We don't have proper machines or a lot of time, the necessary software to help prepare our students to be successful to deal with the real world. Students at home run fast machines and then come to school and have to deal with slow antiquated equipment. I don't believe this is good for learning or student engagement.
What do you look for when searching for new EdTech suppliers?
I believe first and foremost we are looking for the tools or machinery we require that can complete any job.
How do you find them?
This job is done by the senior management team in consultation with the larger GLF ICT community.
Does Bett play a role in helping you choose which suppliers/EdTech you choose to purchase?
Yes, Bett does play a role in the purchasing process. Members of schools visit the event, see what they require and then along with senior management team in consultation with the larger GLF ICT community make decisions about products and software.
What do you think of the new Department for Education EdTech Strategy?
I like the strategy however, I do believe until we get each and every school up to speed in terms of machines and WIFI, I think we will struggle to reach and help each student.
How do you think your institution will be affected?
One way that we are starting to look at what is fully stated in the Department for Education EdTech Strategy, is how we can help empower our community. What I mean about that is that we are beginning to look at how we can empower our parents in our communities.
As stated in the report: "Technology is playing an important role in supporting adults to overcome learning obstacles. Online learning for example, can provide adults with flexibility, enabling them to learn the skills they need at a time and place that works for them5 without being restricted to geographical boundaries or provision available locally."
We are looking at starting an evening after school programme to help teach our parents how to use the Chromebooks, along with the tools in the Google platform, which will in turn, help them to help their children be more successful.
How are you preparing for the new strategy?
Even before this report was published, we as a school, have been working toward creating an environment that mirrors the report. For instance, we understand the importance of students being prepared for the real world and has been for the past two years, we have started using Google Chromebooks with students and teachers.
We understand that where a large percentage of young people are tech savvy. 46% of 5-15-year olds have their own smartphone, and 49% have their own tablets. We are trying to help ensure that our students have the right devices in school, which will help prepare them for now and the future.
This process also includes including the parents in the process. However, we realise that it is essential to have a modern infrastructure that allow those machines to not only talk to each other but to help the students have a good learning experience.
But, as the Department for Education EdTech Strategy report stated, it is essential that all school leadership teams should instigate change and then empower teachers and lectures to be confident users of EdTech. However, this will require a change of viewpoints from senior management teams.
---
About Bett
Bett is the first industry show of the year in the education technology landscape, bringing together 800+ leading companies, 103 exciting new edtech start ups and over 34,000 attendees from the global education community.
Location & Opening times:
ExCeL London, Royal Victoria Dock, 1 Western Gateway, London E16 1XL, United Kingdom.
Wed 22nd January, 10:00 - 18:00
Thu 23rd January, 10:00 - 18:00
Fri 24th January, 10:00 - 18:00
Sat 25th January, 10:00 - 15:00