07 Oct 2019
Forging digital strategies in secondary education with Renaldo Lawrence: Part one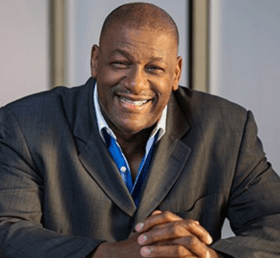 Renaldo Lawrence is an internationally renowned educator and EdTech export, whose latest role at Glyn School involves teaching ICT and Media Studies.
Renaldo's role at Glyn School involves teaching ICT and Media Studies. He also works with the Assistant Head, who is responsible for CPD at the school.
Renaldo's job in this partnership is to create interactive multimedia content for Glyn School's students. This content is then shared between students, parents and teachers for an integrated approach to learning and teaching.
Glyn School is just one of many education institutes that have benefited from Renaldo's expertise. Let's find out how he is planning on helping Glyn School reach their digital goals going forward in part one of our two-part interview with Renaldo.
How did you identify your top priorities for the coming school year?
Each and every year I assess what I did the previous year and the influence I had had on the students I teach, the staff I work with and the overall impact I think I had at the school/s.
This is important because it is important to me that I am making a school-wide impact, working in 28 schools throughout Surrey and Greater London.
One example is that I delivered Adobe Premiere Pro training to media teachers at Rosebery School, another Epsom-based school, this year trying to help ensure that all of our teachers are prepared to teach their students.
The other way I identify my top priorities is by what senior management has determined is going to be the focus of the year. This is essential with my role at the school.
What factors go into choosing which areas of education to focus on?
The number one factor for me is choosing my passion, which is technology because I believe that if you work in the area you love, your job is no longer just a job. It is a lifestyle; a way of helping others to prosper and live the life that they want to live.
One of the things I do each year is take it upon myself to help my students understand just how import they are as human beings first and then how important it is for the to get an education.
The other factor that goes into me choosing a focus is that is looking around the educational landscape and seeing there is a big need for educators to learn how to create interactive content to engage their students.
I love what I do and just the opportunity to share that passion and my learning with others is extremely important to me. It is important to me that our students are engaged in the classroom and I know that every single student loves to listen to video or/and audio.
So, my job is to make sure that they can in a way that we can educate them with the content they need to learn, and keep them engaged.
What's your strategy for dealing with these in coming school year?
The number one strategy is to be prepared. To me that means having some materials that are already prepared so students can start learning from day one. I believe that if you are prepared, it is then easy to let your enthusiasm for your subject area to show through in what you do.
The other strategy is to manage myself in terms of how I feel about teaching, my role and most importantly, my confidence. It is essential that I feel great about what I am doing because I feel this will be transferred to my students.
Another strategy is while working with other educators from around the world at Adobe while I am in the States during the summer. During this time, I am lucky enough to spend time around 90 plus other world-class educators to learn how they are using technology in their schools and universities and then bring back what I have learnt to my school, students, and staff.
Do you find you have enough relevant information or support to make these changes for your educational institution?
Yes. I think that the first thing that needs to happen is the individual teacher has to have a goal and a mission to help change the way education is viewed in a school.
The second thing that I think is critical is that you must have the support of senior management because without this support, depending on the size of your goal, it could be a non-starter. This is why it is essential that the goal should be one that is aspirational obtainable and change either your classroom or the school, if not both.
The third thing is I believe is that each and every year you need to up your game and come back with something fresh and new. This doesn't have to be a drastic change, but it needs to be something that will keep you inspired throughout the year and help to get your staff and students enthusiastic about the possibility of that change.
Stay tuned for part two of our chat with Renaldo Lawrence to find out how EdTech will impact his coming school year at Glyn School.
---
About Bett
Bett is the first industry show of the year in the education technology landscape, bringing together 800+ leading companies, 103 exciting new edtech start ups and over 34,000 attendees from the global education community.
Location & Opening times:
ExCeL London, Royal Victoria Dock, 1 Western Gateway, London E16 1XL, United Kingdom.
Wed 22nd January, 10:00 - 18:00
Thu 23rd January, 10:00 - 18:00
Fri 24th January, 10:00 - 18:00
Sat 25th January, 10:00 - 15:00