EdTech Trends for 2020 and Beyond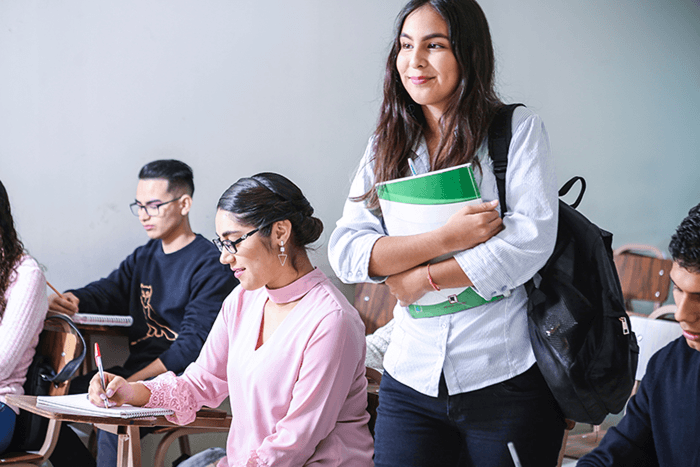 Bett 2020 showcased an immense offering of leading-edge EdTech solutions that are paving the way for future thinking in teaching and learning. Join us as we explore the key emerging trends from our latest show and the ways in which these innovations are informing the current and future evolution of education.
Features at Bett UK 2020//Continuous developments
With a longstanding presence at Bett, Global EdTech experts Futuresource Consulting captured a range of trends and themes that emerged from the 2020 show floor. Here are some of the headliners:
The push towards platform integration
In response to the UK government's recent drive towards reducing admin workload in schools, EdTech providers at Bett 2020 demonstrated that it is more important than ever to transform fragmented, insular solutions to a holistic and thorough suite of administrative applications featuring complete data integration, analytics and Single Sign On functionality.
As part of the show's content agenda, Educators had the opportunity to gain practical approaches to workload management from Senior Inspector of Havering Education Services, Amanda Jackson. A co-author of the DfE Teacher Workload Reduction Toolkit, Amanda discussed the ways in which technology can be used to effectively manage change and reduce workload.
Student safeguarding – an increasingly AI-led approach
In order for schools and HEFE institutions to safeguard students online, there has been a growing momentum to work towards a more contextually-aware AI. It was evident at Bett 2020 that providers such as Smoothwall have been developing systems that can perceive online content at a human level, providing context for increasingly accurate reasoning and assessment of content safety to ensure student safeguarding.
The importance of socioemotional learning
The education sector has increasingly prioritised the importance of social and emotional learning to ensure that students are socioemotionally literate and can effectively manage their wellbeing.
More recently EdTech companies have driven to support this, with Futuresource noting that several providers showcasing at Bett 2020 attributed student and/or teacher 'wellness' as a key benefit of their admin and safeguarding solutions. This year's show had also mapped out a dedicated wellbeing trail, allowing visitors to navigate their way through some of the key wellbeing solutions in the market.
Bett's six global themes framing the 2020 show further placed wellbeing as a forerunner on the agenda, with much of the editorial content featuring case studies and interactive panels that demonstrated wellbeing best practice for both teachers and students. Find out more about wellbeing-focused content at Bett 2020 here.
Ones to watch
Distance learning takes centre stage
Arguably the most prominent factor driving the future of education is the transition to distance learning in as a direct result of the current pandemic. The growing number of government-initiated school and HEFE closures has demanded – in several cases – a rapid and reactive response from institutions to completely transform their teaching and learning.
This shift has seen many international organisations and qualification providers compiling continuity guidance that highlights impact-evidenced distance learning solutions, ensuring to fulfil a breadth of teaching and learning needs including: learning management, systems that are purpose-built for mobile platforms, collaborative & self-directed learning applications, tools for digital learning content creation and both online & offline functionalities.
Due to the current situation the EdTech market is witnessing a phenomenal surge in the usage and the overperformance of stocks for distance learning solutions. US remote conferencing service Zoom, for example, has experienced about a 67% increase in its stock during this quarter so far.
Increasingly watertight cybersecurity measures
Whilst the recent accelerated shift to distance learning and the increased utilisation of analytics and cloud computing has provided much-needed support to educators, there are now greater cybersecurity risks than ever before. This will demand institutions to develop and practise a more risk-aware strategy to the handling of private student and staff data, as well as the consideration of any partnerships between vendors, organisations and governments as part of which data may be exchanged.
An expanded XR offering and increased accessibility
The of presence of Extended Reality (XR – primarily encompassing Virtual, Augmented and Mixed Realities) in the physical and virtual classroom is growing. The combination of the ongoing decrease in equipment cost for educators, the increase in XR capabilities and the advancement of wireless and cellular network performance has been predicted by non-profit association EDUCAUSE as driving a more powerful and accessible XR provision that can be experienced by both residential and remote learners.
There's also a growing appetite for impact research surrounding XR. An expanding range of HE institutions from across the globe have been developing centres for XR exploration, deepening the understanding of XR's potential within the future of teaching and learning.
What does this mean for Bett 2021?
It is clear that the current environment has steered the education ecosystem onto a path that demands an EdTech provision that is more accessible, cybersecure and human-centric than ever before. Bett 2021 will offer the holistic spectrum of content and solutions to build an agile, adaptive and resilient learning community that will thrive in the future.