11 Jan 2016
Does allowing children to bring their mobiles into school have the potential to offer educational advantages?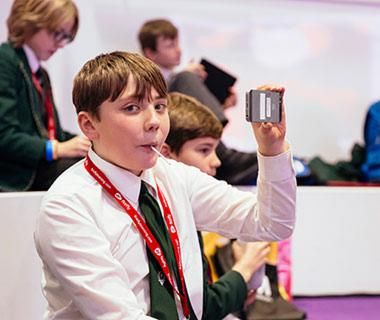 By Ian Evans, EMEA managing director, AirWatch
In today's mobile world, education has become an immersive and interactive experience. A student with a mobile device in hand has access to an endless supply of information at school and beyond. Whilst books and lectures have always constituted the backbone of teaching and learning, the recent introduction of mobile devices has opened up new learning horizons for pupils, but also brought in novel challenges to the educational system. Such challenges include the role of the teacher, how the device is used at school and at home, and the expectations of students, parents and the educational system as a whole from these devices.
Mobile devices provide educators and students alike with unique opportunities to improve the learning experience inside and outside the classroom. Students can benefit from uninterrupted access to educational resources, learn at their own speed and ask for one-to-one help in case they lack the confidence to do so in the classroom. Teachers, on the other hand, can use mobile devices to guide and personalise the learning process and help students with access to educational resources that are relevant to their individual needs.
According to Peter Twining, Professor of Education (Futures) at the Open University, research evidence indicates that the use of technology in education impacts positively on learning outcomes. "A large number of students do seem to be engaged by the idea that they can be more independent about finding information and doing things for themselves," says Professor Twining. "There is some strong evidence that in schools where mobile devices are used intensively, the children feel that they have more agency; that they are more independent and that they have more responsibility for their own learning."
Independent academic consultant and writer, Karen Littleton, believes that introducing mobile devices in education has the potential to create permeability of learning boundaries, blurring thus the lines between home and school. "We're looking at where these technologies can play some supporting enquiry outside the classroom to do data collection for subjects like science and the local environment and so on using the device," says Littleton. "It's not about the device replacing text books; it's about using the device to do what books can't do. This is done to build on the potential for permeability of learning rather than to set up barriers."
In a similar vein, Catherine Scutt, head of creative teaching and learning at the Girls' Day School Trust (GDST), says that allowing students to use mobile devices to play games or watch TV with a learning focus makes them more conscious of what they are learning. "Rather than bringing the recreational element of mobile devices into the school environment, we're trying to achieve the opposite by taking educational materials from the school environment to the home environment in order to promote continuity of learning," says Scutt.
However, because schools and academies in the UK are driven by the accountability and assessment framework, many senior leaders at schools tend to be hesitant to invest in digital technology if it does not directly count into school rankings on league tables or concretely help children with GCSE results. The challenge remains to persuade schools that they can use mobile devices in ways that not only will engage and motivate the children, but would also lead to improving performance in national assessments, and therefore improving their positions in the league tables.