23 Dec 2019
Bett Lates: making it easier to catch this year's unmissable programme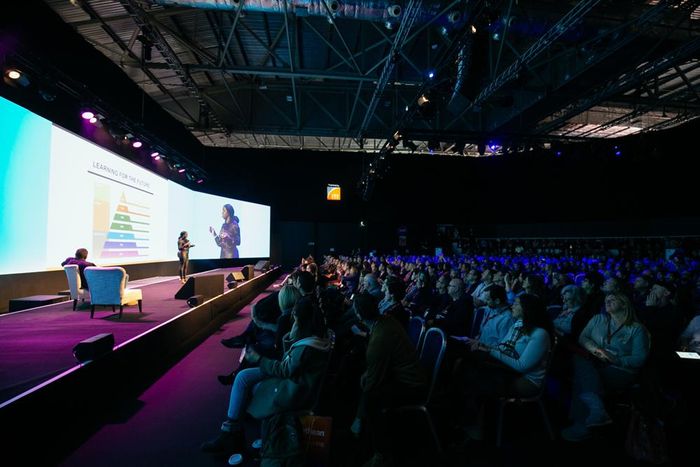 We all know how difficult it can often be to not only travel during peak times, but also to be able to get full cover signed off. That's why for Bett UK 2020 we are bringing back the Bett Lates series. This gives visitors the opportunity to travel during off-peak times to the show, visit all the stands and soak up speaker sessions until 8pm each night.
If you pop by from 5pm, you'll have given yourself a full hour to look at the product solutions available before the showfloor closes at 6pm. After that, you're pretty much spoiled for choice when it comes to the speaker sessions on the calendar from Wednesday to Friday.
Bett Lates: Wednesday
The future of work, society and learning – preparing learners
Wednesday 22 January, 5.30pm – 8.00pm, Schools Theatre
We are living through history. Generation Z, with 2.5 billion nine to 24-year olds, is about to become the world's largest consumer group and will come to power within the next 20 years. The challenges this generation face will be perhaps more significant than at any other time in human history. Join Graham Brown-Martin, an education and future work expert, along with Marielle van der Meer, Executive Director, London Interdisciplinary School, and Oli de Botton, Head teacher, School 21, for the evening discussion about all our futures and positive strategies to help us thrive.
Bett Lates: Thursday
International TeachMeet
Thursday 23 January, 5.30pm – 7.45pm, Schools Theatre
As a global meeting place for the education community, the Bett Show sees visitors come to London from all around the world to find out about the latest developments in EdTech. For the third international TeachMeet, you'll get the opportunity to give a short presentation about your international project or any other idea for the classroom. If you'd prefer, you can also attend just to listen in, get inspired and network. This session will be hosted by Bart Verswijvel, Senior Adviser, EUN Partnership, and Arjana Blazic, Teacher Trainer, Croatian Ministry of Education. Click here to find out more.
Bett Lates: Friday
TeachMeet
Friday 24 January, 5.30pm – 7.30pm, Schools Theatre
TeachMeet is an informal gathering of those curious about teaching and learning. It's a chance to learn something new, to be amazing, amused and enthused. At TeachMeet, you're encouraged to share ideas of what you've trialled in your classrooms, ask important questions, or simply sign up to take part in learning conversations. This session is not to present a product or theory, it is a chance to teachers from all types of establishments to hear ideas from each other. Follow the link here to sign up to present and be a part of the Bett UK 2020 TeachMeet.
Whether you're planning to attend Bett UK from when the doors open, or you're swinging by after school, Bett Lates will leave you feeling inspired, informed and invigorated in equal measure.
Keep your eye on the Bett blog to get more news on how Bett 2020 will drive the conversation on EdTech and how it can help educators at all levels in the future.
---
About Bett
Bett is the first industry show of the year in the education technology landscape, bringing together 800+ leading companies, 103 exciting new edtech start ups and over 34,000 attendees from the global education community.
Location & Opening times:
ExCeL London, Royal Victoria Dock, 1 Western Gateway, London E16 1XL, United Kingdom.
Wed 22nd January, 10:00 - 18:00
Thu 23rd January, 10:00 - 18:00
Fri 24th January, 10:00 - 18:00
Sat 25th January, 10:00 - 15:00