31 Oct 2018
21st Century Skills and Knowledge CPD Webinar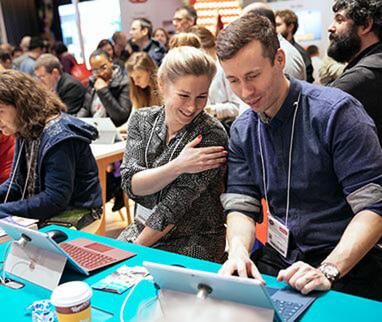 In this 30 minute webinar, we discuss a variety of concepts related to developing 21st Century Skills and Knowledge for learners; they apply to both Primary and Secondary education and our speakers also explore concepts about school management.
All of the speakers were interviewed at Bett 2018 and we've included excerpts of their sessions from the show.
Questions to ask as a group before watching the footage:
What do we understand 21st Century Skills and Knowledge to mean?
What does it mean to us as educators?
What types of careers do we foresee for our learners?
What do we think they will need to thrive?
Topics to discuss after the webinar:
What is our approach to these skills?
Should we consider embedding them?
If so, how can we integrate them into planning?
What do we need to do to introduce some more of these principles in our classrooms?
How can this support with managing teacher workload?
Key skills discussed in the webinar:
Creativity
Mr P discusses his approach to Social Media and how he's shared this with pupils, and it led to a creative writing class that demonstrates growth in knowledge and approach.
Design Thinking
Michael Miller, Technology & Computer Science Teacher explores the concept of design thinking and using a variety of resources to explore with pupils around robotics, designing on paper and cardboard, and building prototypes with LEGO.
Collaboration
Stephen Heppell outlines his Learnometer work about improving the learning environment. In doing so he shares lessons for how teachers and pupils can collaborate on improving their surroundings, building citizenship skills and ultimately moving learners from passive to active in managing their environment.
Problem Solving
Ethan Danahy, Research Assistant Professor, talks about the role of Makerspaces and how they develop a change in mindset. He outlines the free resources available through organisations such as Lego, which help pupils to access many of the skills they need to develop a problem-solving mindset.
Schools unlocking their 21st Century Skills
Finally, Abdul Chohan talks about the use of mobile devices, new approaches to feedback through voice annotation and how these can help to improve understanding of technology and reduce teacher workload. He also talks about a school mindset of embracing failure and redefining CPD to support the delivery of these types of thinking.
Discover the speakers who will be taking to the Bett stage.
---
About Bett
Bett is the first industry show of the year in the education technology landscape, bringing together 800+ leading companies, 103 exciting new edtech start ups and over 34,000 attendees from the global education community.
Location & Opening times:
ExCeL London, Royal Victoria Dock, 1 Western Gateway, London E16 1XL, United Kingdom.
Wed 22nd January, 10:00 - 18:00
Thu 23rd January, 10:00 - 18:00
Fri 24th January, 10:00 - 18:00
Sat 25th January, 10:00 - 15:00